The AudioMob team had an incredible time at this year's Develop Brighton! We enjoyed connecting with gaming industry leaders and the many talks that gave us a deeper look at what is coming to gaming (particularly mobile gaming!).
What is Develop Brighton?
Develop Brighton is one of the most famous gaming events in the UK. The event brings together some of the biggest names in the gaming industry to learn and share ideas. As Audiomob is all about mobile gaming and helps game developers monetize their games - we had to attend! Here is a rundown on what struck a chord with us the most:
Making it Big in the Gaming Industry - Valuing Business Ethics and Mental Health
What it Took Double Eleven to Successfully Scale a Studio to 300 Employees, presented by Lee Hutchinson from Double Eleven.
Growing a team from the ground up takes a lot of dedication. Lee Hutchinson shared an insightful talk on what it took to build a small company into a full-fledged independent gaming studio with 300 employees. Two big points we took away from Hutchinson were to consider that investing in projects that may not seem profitable is sometimes essential for a company's long terms goals. Focusing on the bigger picture is more important than going after a chase in revenue. Secondly, companies must prioritize the mental health of their employees for success. Lee mentioned Double Eleven is even looking into bringing in an on-sight counsellor to help their employees!
Valuable Tips from Top Gaming Industry Leaders
Is Your Code Working For You?, Presented by Nikki Armstrong of Silver Rain Games
Nikki shared tips and best practices to game developers on improving their code. Two big things we took away were that rather than getting an opinion on whether your code is good or bad, focus on evaluating your code by seeing if it fits its exact purpose. Secondly, the advice you receive on your code might seem viable at face value, but after further evaluation and based on its ultimate goal, that advice may actually have a reverse effect and not be helpful at all.
The Importance of Quality Immersive Social Integration When Bringing Games to Asia. Presented by Jorvik Zhang and Philip Morris of Tencent Cloud.
Tencent shared fascinating insights into the current gaming industry and trends within Asia - specifically focusing on the Chinese mobile gaming market. Zhang and Morris shared tips, data, trends on Chinese mobile gamers and the importance of integrating social features into games, giving some fresh ideas on where the worldwide gaming space could head in the future!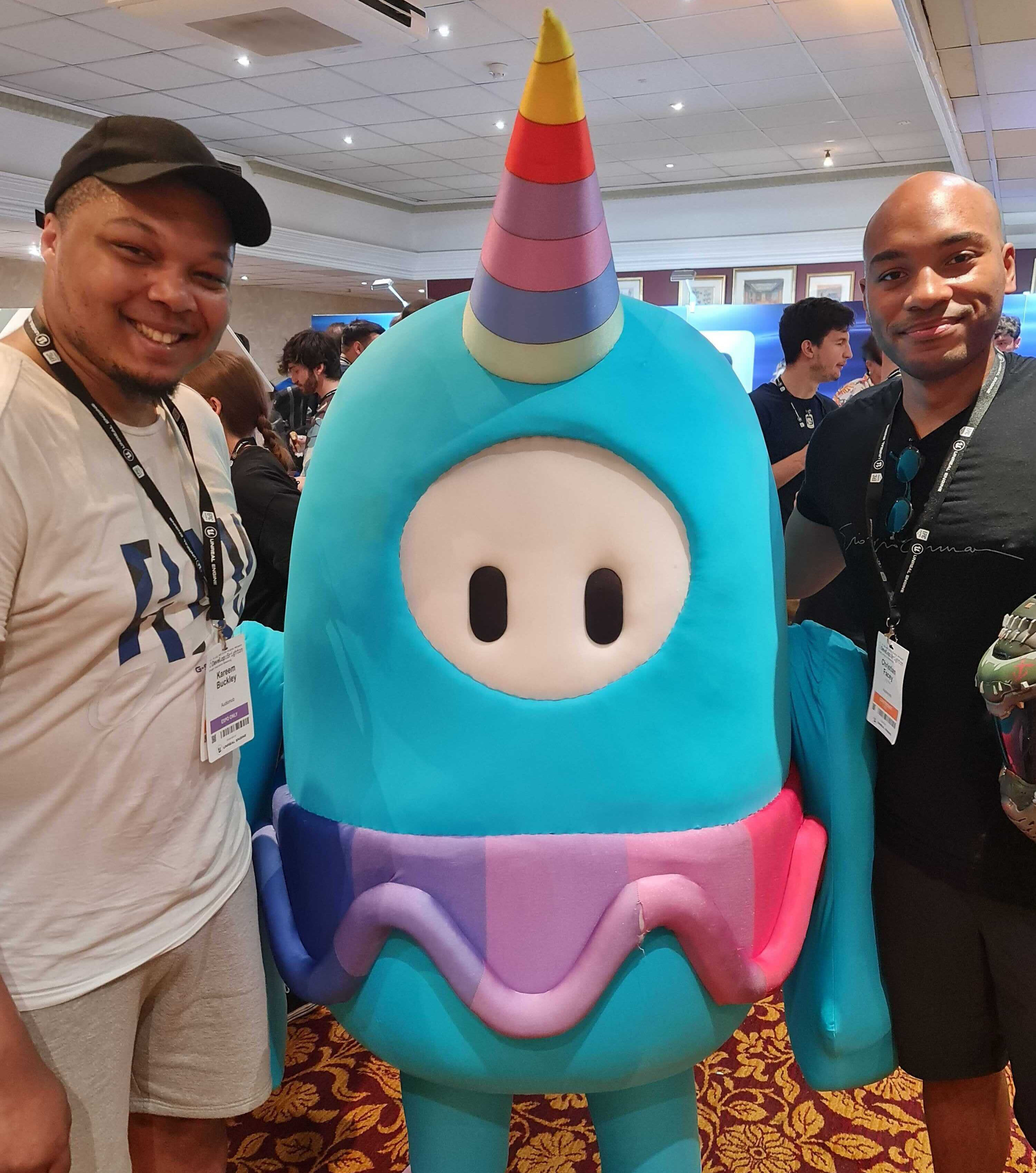 Our CEO, Christian Facey and Developer Relations, Kareem Buckley, with one of the Fall Guys!
Connecting with Gaming Industry Legends
Overall, we enjoyed connecting with many legendary icons in the gaming world, such as John Romero (Creator of the original Doom and Quake) and Joy Day, designer for Creative Assembly, who created the tutorial mode for Total War: Warhammer 3.
Finally, we won the top prize (A DOOM helmet as seen worn below by our Account Strategist, Oliver! ) from Develop Brighton's GamesAid Charity Raffle! GamesAid is doing great work bringing the gaming industry together to help raise charity money for UK charities working with children and young people!
Oliver, our Account Strategist, trying out the DOOM helmet
Thanks to Develop Brighton for hosting such a fantastic event. The AudioMob team had an extraordinary time at Develop Brighton and look forward to next year's conference (and hosting our own AudioMob stand 👀).
About AudioMob: AudioMob was founded on the core principle that there is a better way to monetise games. We allow advertisers to reach their consumers and game developers to monetise their games without interrupting gameplay using audio ads. Have a game in mind you want to take to the next level? Reach out to us

Stay tuned in!