AudioMob is the future of mobile game monetisation for developers
---
By Wilfrid Obeng
04/10/21 · 3 min read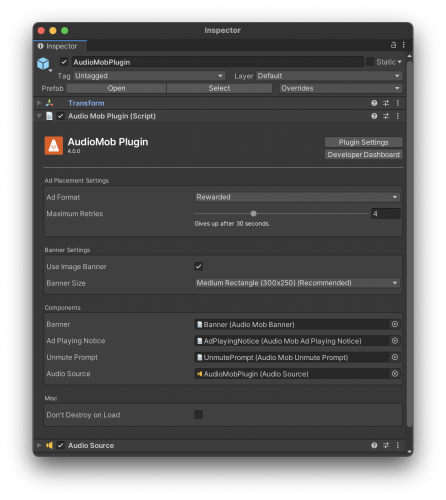 Free apps make up 98% of worldwide mobile app revenue and that extends to free ad-based mobile-games over paid-games with no ads. Developers of mobile games utilise freemium monetisation mode that uses user data as a means to properly attribute ads to the right gamer.
Those ads are usually intrusive video ads and banner ads that stop gameplay for players. This hurts retention rates besides mobile game developer's bottom-line. Most importantly, ads like those could potentially hurt brand reputation. AudioMob's in-game audio-ads don't interrupt gamers and serve as efficient means of communication for advertisers. Our Unity Plug-In allows developers to creatively service audio ads, retain user retention and monetise free-to-play mobile games properly.
What is AudioMob's Unity Plug-In
AudioMob's Unity Plugin allows mobile game developers to add ads to games utilising cross-platform game engine Unity. Over the past couple of years, many popular games including Big Brother The Game (9th Impact) have utilised our Unity Plugin to present our non-intrusive audio ads.
Through our Unity Plugin, mobile game developers can decide when, how and where our ads can be displayed. All of AudioMob's ads presented through the plug-in use a very small percentage of mobile processor resources.
Developers are only limited by their imagination.
How the AudioMob's Unity Plug-In works
Once AudioMob's Unity Plugin is loaded into the Unity-based game project, mobile developers have full control how ads are displayed within a game.
Developers can utilise our ads to give free rewards to players while they listen. This option has been proven to be significantly better for gamers instead of using video ads where players have to wait until after the presentation is finished. In lieu of long wait-times for rewards, our audio-ads can provide those same results quicker. AudioMob's Unity Plug-In also supports volume detection when ads will pause if a user's mobile device volume is below 30%.
The AudioMob Unity Plug-In utilises Video Ad Serving Template (or VAST) for developers. VAST is the system of tools used to support our audio-based ads. When a developer wants to offer an impression on the ad exchange, they can set up a set of parameters for the types of ads they want displayed within a game. This allows our audio-ads to become more effective when reaching out to potential audiences while also increasing retention.
Developers interested in AudioMob's Unity Plugin can click here.